Keto-Fast Formula for Menopause
6 Week Nutritionist Guided Interactive Program
(Coming in March!)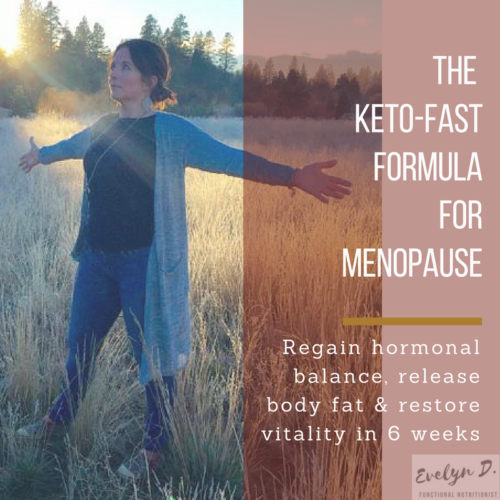 Includes Free Mini-1:1 Session with me! Specifically designed for women 40 (ish) and over who struggle with (or want to prepare for a smooth transition into) Menopause – including Peri- and Post- menopausal hormonal changes.
This stage of life doesn't have to equate to weight gain, but you will have to make some changes because our bodies change in this process! It IS possible to avoid hot flashes, mood swings, brain fog and belly fat – If you know how to support your metabolism and your mindset throughout and beyond the transition. In this program, you will learn how to embrace all the signs and gifts menopause brings and look and feel great in the process. 
Because we're all in different stages and we're all individually and biochemically unique; the plan can be personalized based on health needs and preferences, but the foundation will be based upon a real food Ketogenic (low carb, high fat) and Intermittent fasting framework.
To get you educated and inspired, you'll receive an ebook (PDF download) with key functional nutrition information about hormones, digestion and metabolism specific to this stage of life along with a sample full week meal plan – complete with shopping list, recipes and prep tips.  This is to get you started in creating and experimenting with your own eating/meal approach based upon foods you like, what you know about your body, your schedule and your culinary skills/motivation.
Each week I'll be sharing a new module with "homework" that will continually build off of each week.
Module 1: Keto and Intermittent Fasting Basics and Implementation – Becoming a Fat Burner – even in Menopause!
Module 2: Menopause Mindset – Learning to listen to your body
Module 3: Stress and Self Care – Keeping your oxygen mask on & NOT taking things on
Module 4: Movement – Finding Goldilocks
Module 5: Relaxation & Sleep – Don't hit snooze on this one!
Module 6: Putting it all together for the rest of your life!
All along the way, we'll be interacting in the Keto-Fast for Menopause Private Facebook Page. I'll be there sharing, answering questions, helping you troubleshoot and supporting you step by step as you find YOUR FLOW with real food and lifestyle in a way that feels best for YOU. I can't wait to work with you in there!
---
HOW TO:  Order the Keto-Fast Formula for Menopause here. You'll get an email with a link to the Private Facebook page where the e-Book, PDF downloads and modules will be posted. Then, schedule your 1:1 Mini Session HERE.
HOW MUCH:  $197
---
---
D.I.Y. GROUP INTERMITTENT FASTING PLAN
Intermittent Fasting (IF) is a great way to reset hunger hormones, boost the metabolism, reduce cravings, eliminate bloat and rebalance body composition (aka lose body fat or weight) without "dieting", severe food restriction and over-exercising.
In this DIY (Do It Yourself) Facebook Group program, you'll get all the tools you need to implement a safe and easy IF plan AND you'll be able to compliment your "fasting window" with 4 eating options for your "eating window". Not all eating approaches work for everyBODY, so you get to choose the one that speaks to YOU. That's why I've created 4 different options that will fit most individual needs:
OPTION 1. Eat (and drink) normally. Nothing has to change, except your compressed eating window.
> This approach is perfect for people that already eat pretty well (mostly real whole foods) but want to enjoy the extra support, experience the benefits of IF and perhaps be inspired to try some new recipes or tips.
OPTION 2. Real Food Keto Meal Plan
> Curious about the real food KETO approach (high fat, moderate protein and low carb)? This approach is ideal for people who have struggled with blood sugar issues, cravings, weight loss resistance, brain fog and low energy.  Don't worry, this is the easiest approach to Keto out there!  All real delicious satiating food – including loads of veggies.
OPTION 3. Balanced Macro Meal Plan
> This approach is perfect for people that want to keep whole foods based carbs in their eating plan. Beans, whole grains, potatoes and fruit are all on the menu! This plan can easily be modified whether you're vegetarian or strict Paleo too.
OPTION 4.  LET'S DO THIS! Combine the PaleoCleanse Detox Program with IF and the eating option you choose:
Purchase the Paleo Cleanse 14 day kit HERE 
> Enhance detoxification and boost your metabolism. Instead of 2 shakes per day, we'll have 1 along with one bigger meal every day (so the kit will last the full 28 days). This option will help you lose 5-10+ lbs of excess inflammation (depending on where you're starting from) while experiencing the added benefits of Intermittent Fasting AND detoxification.
WHATEVER OPTION YOU CHOOSE, YOU'LL GET IT ALL:
A weekly meal plan for both Keto and Balanced Macros approaches with simple recipes, a shopping list and prep tips that will provide a framework and inspiration so that you can navigate fasting and eating based on your own preferences and lifestyle – all in an easy to download e-Book included with each purchase. The IF Plan will also include access to a Private Facebook Group page which will provide a safe space for sharing and interaction with other members throughout your Intermittent Fasting journey.  I'll be in there too!
This DIY program WORKS – with past members reporting more energy, less cravings, food freedom and weight loss starting right off the bat in the first week and 5, 10 and 15 pounds lost by the end of the month! Best of all, you'll have the tools to be able to continue the intermittent fasting and eating approach that works best for YOU – for the rest of your life! Why? Because it's not a temporary diet – it's sustainable, completely freeing and it just feels really good! At only $28, you've got nothing to lose….except for out of control eating habits, excess weight, fatigue and brain fog!
---
HOW TO:  Order your DIY Intermittent Fasting program here. You'll get an email with a link to the Private Facebook page with the e-Book PDF download.
HOW MUCH:  Only $28! 
---
---
30 WEEK GUIDED 1:1 TRANSFORMATION PROGRAM
It takes focus, consistency and effort to transform.  And oftentimes, we just can't do it alone. It's too easy to slip back into old habits, distorted beliefs and just give up. If you've been stuck with 30+ pounds to lose, this is the program for you.
Fat loss clients that are successful are the ones that show up for themselves every day, show up with me every week – and they do the work – even when it's hard or boring.
They're not perfect either -I don't want perfect – I want real. We learn most when we fail, so there is no failure.
Transformation is not just about food and exercise.  We need to go beyond that.  I'm talking about making those deeper connections to why we reach for the wrong things to begin with. What are we trying to avoid, not feel or hide behind (for example). When we uncover that gold – THIS is where real transformation happens.
An analogy I use for the whole temporary – lose-regain – diet scene is slapping a coat of paint on a rotted, moldy wall.  It may look good for a little while, but eventually, the deeper truth emerges. The mold peeks through the paint and spreads. The gaps in the damaged wood split apart – and that once shiny, new wall, looks even worse than before – and we feel hopeless and defeated.
This approach is different.
This is finding your own way with food and exercise in a way that works for YOU – with me guiding you in the possibilities – with an ideal structure that ensures you'll be getting what you need -in balance (this does NOT involve caloric restriction and over-exercising by the way).
I'm here to steer you in the right direction – not to dictate dietary dogma.  You'll eat real food and uncover beliefs and behaviors that have been keeping you stuck. When you feel like you're failing, I'll be there to lift you up. When you feel like stopping, I'll be there to encourage you to keep going.  You WILL transform during this program as long as you're open to it and allow it – and show up each week.
NOTE: Although I'm a HUGE advocate of real food, low carb and intermittent fasting – especially keto (for many – not all) ;  I work with all kinds of nutrition approaches that appeal to the individual. When we have our initial assessment, together we'll determine what the best approach will be for you and we'll go from there.  🙂 xo
---
HOW TO: Order the 30 Week Program here.
HOW MUCH: NEW! Monthly Payment Plan: $197 per month (for 6 months) or SAVE more with a one time payment of $1097 ( $2300+ Value).  Includes your customized program, access to me via text, email or phone throughout the entire program for support or quick questions  (in addition to scheduled appointments), 1 hour initial intake session and 29 weekly phone/online 30 minute follow up appointments during the 30 week period.
---
PaleoCleanse/VegeCleanse – 14 or 21 Day Detoxification Programs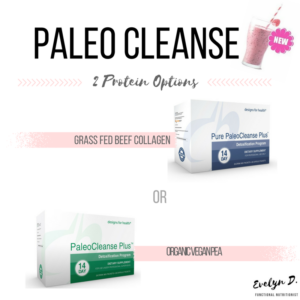 We all can use a quick reset to get the liver and our habits back online.
This is the easiest, tastiest way to do it!
Now available in great tasting grass fed bone broth/collagen protein or organic vegan pea protein!
An overburdened liver will slow metabolism, halt weight loss and ketone production, and prevent recovery and healing. This in turn can leave us feeling sluggish and craving the very foods that cause inflammation, weight gain, immune activation, gut issues and hormonal imbalances. I often encourage clients working on their "food flow" to start with a 2-3 week reset to accomplish 5 things:
Break the current eating cycle.
Clear any liver sluggishness so that metabolism is optimized, ketones can be produced and fat can be burned.
Heal the gut.
Identify hidden food sensitivities.
Lose up to 5-10+ lbs to jump start motivation.
Yep – It's time for a reset!
The problem with most detoxes and cleanses on the market is that they don't support the body's intricate detoxification processes. Many herb or juice based products only address Phase 1 detox, while completely ignoring critical Phase 2 detoxification which is where toxins and waste byproducts safely get eliminated out of the body.  "Phase 1 Only" or Juice protocols are usually way high in fruit sugar/carbs and put you at risk for re-toxification!
The PaleoCleanse/VegeCleanse Plus program is organic and encourages you to eat REAL food along with 28 delicious protein/detox shakes (2 per day), enzymes and Phase 1 & 2 detoxification nutrients.  You'll also receive a printed eating and lifestyle guidebook , a shaker bottle, PLUS a FREE 15 minute introductory nutrition consultation (new clients only) and direct email/Facebook access. That's a LOT of support to ensure your success!
HOW TO: 1. Order the kit in organic vegan pea or in collagen/bone broth protein, 2. "Like" our Facebook page and 3. Schedule your FREE 15 minute nutrition clarity session!
HOW MUCH: Cost: $169 (organic pea) or $157 (grass fed collagen/bone broth protein) – 21 day kits also available in the vegan formula! (Note: You'll need to create an account at the e-store when ordering.)
---
Read how the PaleoCleanse Plus Program has helped people just like you!
"Evelyn coached me during the 21 Day PaleoCleanse program. …I learned very quickly about foods/food labels, etc. As a 6'5″ 300 lb. guy I really never understood or knew much about labels, etc. During those 3 weeks of detox I lost about 20 lbs. and continue to make progress in losing weight and eating better. I have found this experience life-changing as crazy as that sounds and extremely grateful to having Evelyn as a coach. Thanks Ev!"  Dave A., Providence, RI
"I can't believe I was able to give up caffeine!  I couldn't even function without coffee before this Cleanse. It's been 6 months without it and I don't miss it a bit. Now I wake up to a nice cup of water with lemon and feel amazing energy all day.  My hormones are also more balanced.  I really loved the taste and texture of the shakes during the PaleoCleanse and being able to eat real food for snacks and dinner really worked for me.  The support from the Facebook group was so inspiring and encouraging. This is definitely something I will do again!"  Jean S., Ellington, CT
"I got used to the cleanse much more quickly than I thought I would and it was much easier to do without caffeine, sugar, alcohol and dairy than I thought it would be.  For me, it did help me lose some weight – 9 pounds – which is not bad. But much more significantly, it was an exercise in self-discipline that I really needed. I now know I don't have any real food addictions, just food habits that were fairly easy to break. I'm hopeful some better habits have set it and I'm on a path that will lead me to the body I was meant to have."  Chris K., Manchester, CT
"Wrapping up the Cleanse and I feel great! Down 8 lbs and definitely noticed I have more energy and less brain fog. Journaling my food in my phone app is key to balance out the percentage of protein, fat and carbs. I have to say it's not as hard as I thought…even without wine!" Teresa M., South Windsor, CT
"Through Evelyn's CLEANSE – I have experienced first hand the benefits of releasing toxins.  This has had a profound impact on my life!  From learning how to prepare easy healthy soups to making "SuperFood Coconut Bites", I have achieved many improvements in my life.  With the help of Evelyn I have found the ability to satisfy my appetite  cravings with healthy fats and other foods and herbs while ridding my body of toxins.  As an added result of changing my diet I have also found relief from arthritis pain that I have suffered from for the past few years,  I found that eliminating certain key foods frommy diet enabled me to stop using pain medication.  Thank you, Evelyn!"  Catherine F., Tuscon, AZ
"Through Evelyn's CLEANSE, I was able to pinpoint a very uncomfortable food intolerance and in the process of eliminating those foods, I lost 10 pounds!  Best of all, eating clean isn't difficult – there is no feeling of deprivation and I feel great!" Ailish L, W. Hartford, CT
---
---
Personalized 1:1 Nutrition Support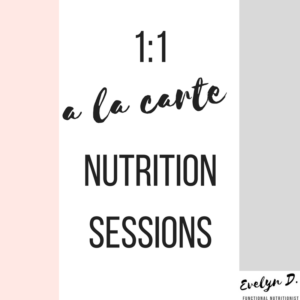 Reach your goals and enjoy vibrant health and longevity in a balanced, pleasurable way! Not by eating meal prepped plain chicken breasts and steamed broccoli and hating every second of your "plan" (unless that's your thing :)).
No one – not even the most highly trained doctor, fitness or nutrition expert  – knows you and your body better than YOU.  So why do we turn to these sources and follow their "one size fits all" advice?  What works for someone else, may not work for you…and even if it does "work", is it something that you can stick with for life?
Work 1:1 with me and we'll discover your very own "food flow" – the eating approach that fits your body, personality, taste buds, schedule, social life, budget, cooking abilities and goals.  Starting with a complete functional assessment, diet analysis and goal setting, you'll receive customized nutrition and supplement protocols based upon your goals, preferences, personality and level of motivation. We can go as deep as you are willing – to assess and reprogram the physical, mental, emotional and spiritual aspects that need to work in balance in order to have lifelong health and vitality.
Discover simple,  practical ways to boost your nutrient intake with real, whole foods, learn how to support optimal digestive health, reduce inflammation and rebalance blood sugar, hormones and weight with nutrition, lifestyle and mindfulness.
For those who are looking for specific support with a health condition, in gut healing, fat loss, hormones or transitioning to a "paleo" or "clean" ketogenic or intermittent fasting approach to eating, I can support you step by step through the process. Contact me to learn more.
HOW TO: Schedule your sessions here.
HOW MUCH: Cost: $125 Initial Session (runs about an hour +) /$75 for follow ups (up to 30 mins)
(NOTE: Special Local In-clinic rates available. Ask me about rates at CNHP and Crossroads Fitness.)
SAVE! Nutrition Session 5 Pack – $350 – includes 1 initial consult plus 4 follow up sessions (in other words, one FREE follow up session – a $75 savings!)
"I was drawn to Evelyn almost out of desperation for where my life was going (nutritionally and emotionally).  I learned first and foremost that I am worth taking care of! I then learned that delicious, nutritious, and fun food can come in a healthy form…just with a little change of mindset. I now include greens, proteins, seaweeds and organic food in nearly EVERY meal. I think that this process may be a little slower then the conventional fad "diets", but I love that this is not a diet! Evelyn has taught me how to make 'clean eating' a way of life!"  Michelle B.
"Evelyn has provided not just a one time appointment for me to determine my dietary mysteries but offers me ongoing support through challenges, answers my questions, and is patient with me when I have things I think I need to say. I have benefited from Evelyn's services with what I have learned and applied to real life, not just pie in the sky (although that WOULD be tasty!). I have valued my interactions with Evelyn and highly recommend her as a competent, compassionate and understanding professional who is ready to serve." Ruth H.
---
---
12 Week Personalized Nutrition Program

This is basically like having a nutritionist in your pocket – on call -EVERYDAY! This program is perfect for people with 15-25 pounds to lose.
Heal, rebalance, lose body fat and change patterns for good without obsessive restriction and with expert daily support all along the way for 3 whole months!  Perfect for "Obliger" personality types that do best with accountability and those that have 'all or nothing' – 'on or off' – 'black or white' behavior patterns when it comes to change and eating.
With your self-care investment, you get access to me daily (or as needed) as you work to develop your own 'food flow' – which basically means uncovering the best way of eating for YOU – and you alone – that supports your goals, visions, lifestyle and preferences. This is a completely customized eating program with the ability to check in daily with me with updates and questions, along with access to weekly 1:1 coaching sessions via phone/online during the entire 12 weeks (contact frequency is completely up to you).
We start with identifying your vision for health.  What's your WHY? What do you really want?  We uncover what's worked in the past and what's failed as well.  We uncover limiting beliefs, patterns, triggers and traps and work on strategies to navigate life and food sanely and in a balanced, unrestricted way.
Working with your metabolic body type, personality, history and/or calculated resting metabolic rate (RMR), we identify a food approach that will work for you.  From there, we identify your functional status, potential hormonal imbalances, digestive issues, etc.. we tackle food, lifestyle, behavioral patterns and mindset hurdles and adjust your plan all along the way.
Clients may open up to identify triggers and habits, emotions and other barriers to lasting change as we work closely together through the process. No food measuring, counting or weighing (unless you like that sort of thing :)).  You eat real foods that you enjoy in the right proportions based on how your body responds.
All throughout the 12 weeks, you can touch base with me for support or to share how the plan is working for you. Using your own body's biofeedback, we determine what needs to be adjusted to get you closer to your goals. Each week you have the option of scheduling a 15-30 minute phone or Skype follow up session to dive deeper into necessary adjustments, food and lifestyle challenges and any other questions or observations.
If you've struggled with different diets and either lost and gained the weight back or didn't lose at all, know that it's not your fault!  You've been falsely led to believe that 'one diet fits all'. It's simply not TRUE! Together, we'll determine the perfect food flow for you to live a balanced life at a healthy weight without obsessing and without needless restriction.
HOW TO:

Order the 12 Week Program here.
HOW MUCH:

 NEW! Monthly Payment Plan: $297 per month for 3 months – or SAVE more! Make a one time payment of $847 ( $1000+ Value).  Includes your customized program, access to me via text, email or phone throughout the entire program, 1 hour initial intake session and 11 optional weekly phone or online follow ups during the 12 week period.
---
---
Over the past 3 months, I've lost close to 20 pounds with Evelyn's support and without severe restriction.  I eat real food and drink in moderation which feels great in my body, but more importantly it doesn't feel restrictive.  This is SO key for me. I have a very fun and active social life, so it was not sustainable for me to go on a highly restrictive "diet" (AGAIN!), where I couldn't hang out with my friends and enjoy life.

By working with Ev, daily at first, we worked through the tactics and strategies to moderate with food and alcohol socially while tightening up little leaks here and there at home with daily eating habits and behaviors. I increased my awareness, connected to some habitual and emotional patterns and slowly started to improve my energy level, confidence and choices and steadily lost weight in the process.  I even added exercise back to my routine again – which I used to love, but let go over time.

I'm so grateful for this program and experience and the loving support Ev provided throughout the entire process. I'm confident that the changes I've made are permanent and will allow me to live a healthier and happier life going forward. If you've been on diet after diet only to abstain and regain the weight back (and then some), I highly recommend this customized approach to eating and living. I've truly found my 'food flow' as Ev calls it and it's awesome!  Teresa M., South Windsor, CT
Schedule your sessions here or contact me with questions.
---
---